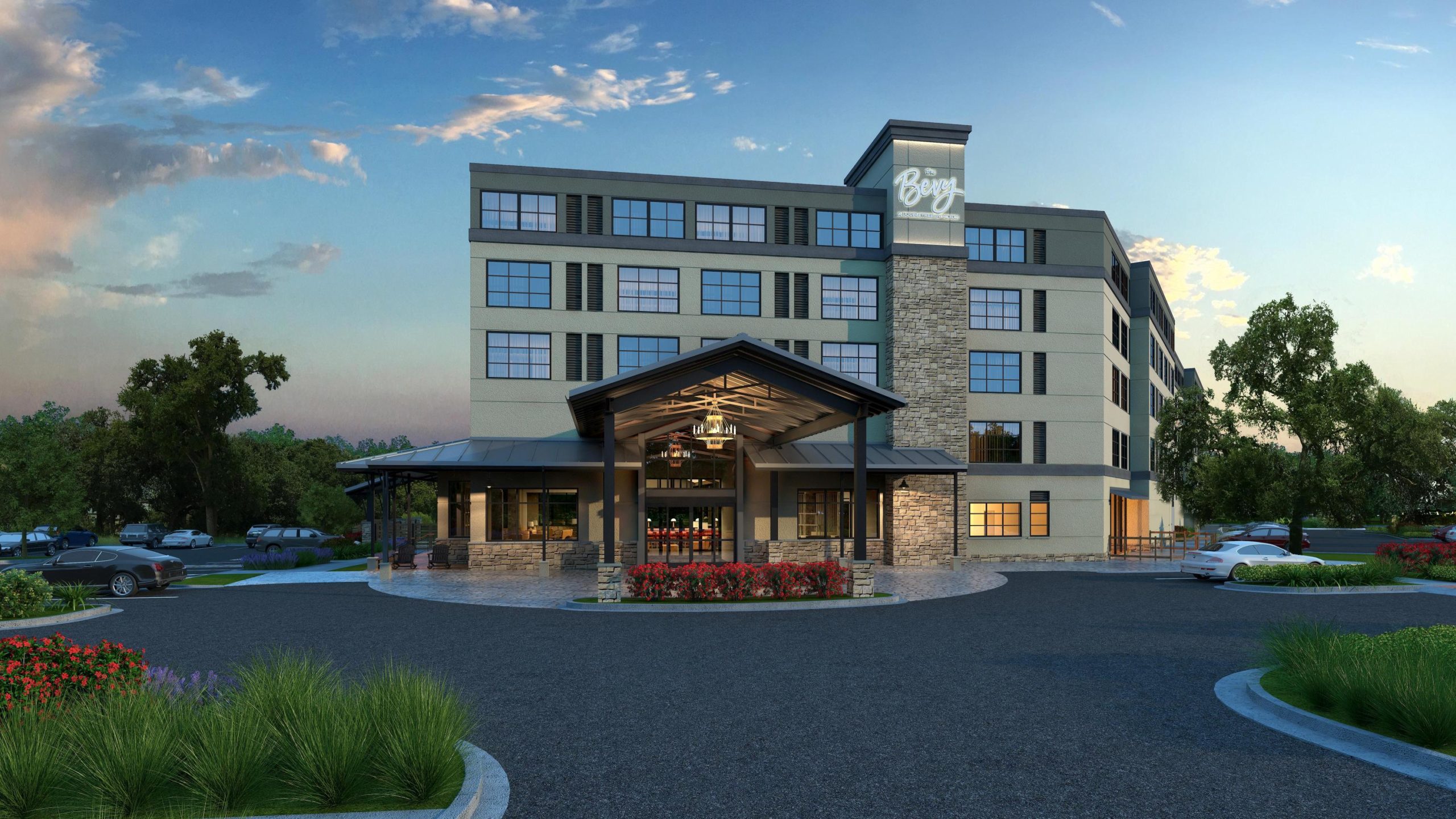 It is highly appropriate that Ed McClure has named his latest hotel venture "The Bevy," not only because it is an apropos name for this large-scale hospitality venue in Boerne Texas, but it accurately describes Phoenix Hospitality Group, Ed's extremely successful hotel management and development company. Phoenix Hospitality Group (PHG) is indeed a bevy of lucrative hotel projects, led by a collection of seasoned, closely-knit hospitality professionals that insure this success.
Phoenix Hospitality Group began its enviable track record of taking distressed, under-performing or underdeveloped properties and turning them into prosperous ventures in 1987, beginning with the historic, failing Gunter Hotel in San Antonio, Texas, which then earned Four Diamond recognition within two years of PHG taking over its management. Other hospitality clients during the "Distressed '80s" include the Crockett Hotel, El Tropicana and Deluxe Inn in San Antonio; the Doubletree Hotel in Austin; the Grand Hotel at the Galleria in Houston (currently known as The Derek); Carefree Inn and Resort (currently known as The Boulders), Scottsdale, AZ; and several distressed hotels in other Southwestern markets. With each of these assets, the PHG team developed a vision, directed renovation and repositioning, provided management, and coordinated the timely sale of the hotels. They have also successfully coordinated affiliations with secure, profitable national hotel franchises, including Hilton, Marriott, Hyatt, Sheraton, Radisson and Intercontinental Hotel Group.
PHG has successfully executed more than other 30 hotel properties, and developed and/or renovated 20 branded and independent hotels over its 30-year history. With a hands-on artisan approach to the investment, development, marketing and operation of hotels, restaurants, conference centers, and spas, Phoenix Hospitality Group (PHG) is known internationally in the hospitality industry. PHG's success is a result of its focused operating style fueled by experience and a system of checks and balances that consistently achieves premium performance and maximizes product quality, guest satisfaction and returns to its owners and investors. In order to maintain PHG's formula for past successes, and in response to demand for PHG's management and consulting expertise, a policy was implemented in 1993 that PHG only accepts projects in which it has a profit participation or equity interest. http://www.Phoenixhospitalitygroup.com
So, what's up next for PHG's bevy of projects, in 2018?
The Bevy Hotel Boerne, a DoubleTree by Hilton
PHG broke ground and began construction in January 2018 on a new full-service hotel and conference center: "The Bevy Hotel Boerne, a DoubleTree by Hilton®."
The hotel will be a cornucopia of all things Texas Hill Country: incredible diverse food; artisan beverages; authentic regional finishes; vibrant wild flowers; unique Texas music; and Texas hospitality. Travelers to the Boerne area will be able to stay at The Bevy Hotel and enjoy everything that makes the Hill Country what it is, without leaving the hotel.
When complete in early 2019, this premier full-service destination hotel will offer 120 contemporary rooms and suites, outdoor event spaces, wraparound porches, resort pool and firepits and a 7,200-square-foot conference center, all custom-designed in Texan Hill Country vernacular featuring indigenous natural materials by the renowned international architecture firm of Cooper Carry, an international design firm offering architecture, planning, landscape architecture, interior design, environmental graphic design and sustainability consulting services. The Bevy's signature restaurant bar and market and catering will emphasize Texas regional cuisine and products—another specialty PHG is known for from its tenure at Guadalupe River Ranch and Ye Kendall Inn/Limestone Grille in Boerne.
Cost of the project is approximately $25 million, according to Ross Partlow, of Partlow Properties & Investments, LLC, co-owner and co-developer of the new hotel along with his partner Tim Lange and Phoenix Hospitality Group partners Ed McClure and John Corcoran. Located at 101 Herff, on four acres of a 20-acre plot of land owned and developed by Partlow and Lange that is bordered by IH-10 and Main Street, The Bevy Hotel Boerne is strategically located in the SoBo area, just southeast of Boerne's historic downtown.
Hotel Indigo San Antonio-Riverwalk
In November 2017, Phoenix Hospitality Group partnered again with 2GR Equity, a real estate investment firm based in Grapevine, TX, to purchase the Hotel Indigo San Antonio-Riverwalk—a three-story, 149-room full-service hotel located at 830 North Saint Mary's Street, across the San Antonio River from The Tobin Center, at the center of the burgeoning art district in downtown San Antonio. PHG has launched an estimated $5 million upgrade of the property, which will include guest rooms, public areas, its riverfront patio, pool area and food and beverage outlets, including new concepts for the restaurant and bar.
Given the hotel's proximity to the performing arts in the downtown area—the Tobin, Majestic, Empire, Aztec, Arneson River and Alameda theatres—the inspiration for the hotel's new décor will center around local arts, says the project's architect and designer, Ignacio Aliaga, AIA, of a+b architecture. When complete, the hotel's restaurant and bar will offer locals and guests a new option for dining and drinks before or after Pearl, Tobin or any downtown events—or just because they want to enjoy the unparalleled ambiance of the San Antonio River.
The hotel will stay open as improvements occur since no major structural changes will be necessary. Other amenities that set the Hotel Indigo San Antonio-Riverwalk apart from many downtown hospitality properties include convenient parking; easy egress from all major expressways; pet-friendly policies; a river taxi boarding dock off the riverfront patio; works of local and regional art along this art district section of the Riverwalk; and premium seating for The Tobin Center's open-air performances.
Sergio M. Cardenas, CHSP joins PHG Team
Sergio M. Cardenas, CHSP, was named Vice President of Sales and Marketing for PHG in late 2017. Cardenas joins PHG with 29 years of experience with full-service and luxury hotel products under the Hilton, Marriott, Starwood, Carlson and IHG family of brands.
He is responsible for the company's top line revenues, and supports the expansion of the management portfolio through new development, acquisitions and consulting.
Cardenas holds a business degree from Davenport University and maintains a Professional Sales and Marketing accreditation from the American Hotel and Motel Association. He began his hotel career as a Director of Sales & Marketing for BriLyn Property Investments, a REIT based in Cincinnati, OH. Over the years, his progressive career has lead him to direct the sales efforts of luxury independent and upscale properties and manage mixed hotels portfolios with continued success.
Other Current PHG Hotel Ventures
PHG is currently an owner and manages the DoubleTree by Hilton San Antonio Downtown Hotel, the Hotel Indigo San Antonio Riverwalk, and the new Hilton Garden Inn and Conference Center-Live Oak. It also manages under long-term agreements the new Embassy Suites by Hilton San Antonio Brooks Hotel, Spa and Conference Center and DoubleTree Suites by Hilton Hotel McAllen. Several other hotel projects are in pre-development and acquisition analysis.